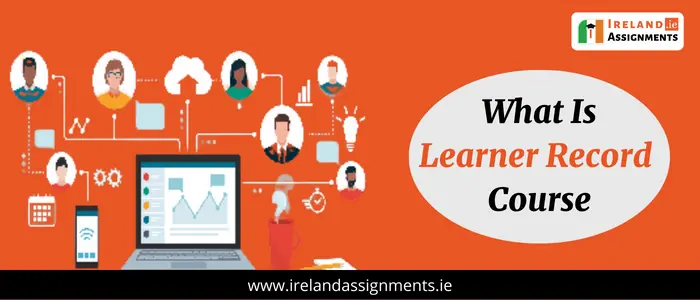 What is a Learner Record?
This article is about learner records that are a part of QQI assessments that students have to complete to get certified by QQI or get awards or grades by QQI. Learner records are records that are submitted by the students or the learners.
These are written individually. These records explain the major activities, learning experiences, important skills, and responses of the students. A learner record is a way for students to track their progress and growth. At the end of each semester, teachers can look back on these records in order to grade more fairly as well as plan lessons accordingly. A learner record allows you to see your accomplishments over time so that you know when it's appropriate for an assessment or test. Besides discussing the learner record templates, concepts, and definitions, this blog discusses learner record weightage in various assessments, the function of learner records in various QQI courses as well as the components of the learner records.
Learners record concepts and definitions
The learner's own record of his/her personal journey towards learning can be a valuable tool in their educational development. It is important to keep track and reflect on what has happened, why it was significant, how you felt about the experience at the time, and your thoughts or emotions later. In this way, we are able to better understand our progress as learners through reflection without being influenced by someone else's feedback or interpretation of that event which may not have been accurate for us personally.
There are assessments concerning various QQI courses and the students or learners have to participate in the assessment process. The assessments have various outcomes of learning for the learners. The objective of the assessments (theoretical and practical) is to understand the level of knowledge that is imparted to the students and learners pursuing any specific QQI course. The assessments also contain various objectives of learning a course.
The results of learning are categorized as follows:-
        Assessment principles
        Diversity inclusions
        Methods of evaluation
        Preparing the test assessments
        Preparing to monitor visits
With regards to QQI assessments, it is relevant to say that any assessment technique is made up of three parts and they are the projects, the learner records, and the demonstrations of skills. In a learner record, the learner or the student has to submit the learning experiences, skills, activities, and responses.
Hire a Irish Assignment Writer to Write your Essay, Thesis & Other Academic Papers
Weightage of learner records
The article in this context also discusses the various weightage of learner records. The weightage of project work in assessments is 40% and the weightage of learner records is 30% and the weightage of skill demonstrations is 30%.
The function of learner records in various QQI courses
This section discusses the function of learner records in various QQI courses. In this context, it is relevant to say that learner records are useful techniques of assessment as far as various QQI courses are concerned. Various courses like SNA, nursing, community and child care skills, and other modules have assessments at the very end. Therefore, it becomes extremely vital to analyze the outcomes of learning after a course curriculum.
What are the components of learner records?
There are many parts of a learner record and this section will discuss all of them. It is recommended to every student or learner who attends the assessment program create a personal journal. To make the learner's records more interesting and engaging, it is important to remember that every student should set up their own personal journal. This can be done by recording any assessment method used throughout a course of study.
The personal journal of the students or the learners is known to contain the following things:-
        Planning tests for assessments
        What are the tools that are utilized?
        The problems that are faced
        What are the techniques that are utilized to incorporate diversity?
        Various aspects of self-learning
Reflective writing and learner records-A comparative analysis
The components of learner records include self-learning. Reflective writing and self-writing are processes that happen on a chronological basis. Both self and reflective writing incorporate testing processes like assessing and preparing. Writing can be done using a wide variety of media and such media incorporates video, multimedia, and audio.
It is recommended to submit writing on tape. Learner records include experiences of the students and hence it is very similar to reflective writing. Both self and reflective writing allow the students and the learners to draw the similarities between practical and theoretical experiences. Both self and reflective learning have many similar things.
QQI Assessments and Assessment techniques
The students participating in various QQI course curriculums have to sit for assessments organized by QQI. The objective of the assessments is to test the skills, and knowledge of the students participating in the courses. Various methods are used to evaluate the students. These methods include learner records.
The students participating in assessments also require submitting assignments on various course topics apart from learner record submission. The assessors use assessment techniques like question papers, answer sheets, mark sheets, project guidelines, evaluation criteria, and all other assessment techniques that are duly approved by the QQI.
On successful completion of assessments and evaluation, the students are awarded certification, they are awarded grades. The grades can be a pass, can be merit, and can be a distinction and all of these depend on the performance of the students in the assessments.
Want to know "what is Learner Record" then get helped by expert writers of irelandassignments.ie
QQI offers many courses and modules to educate and train students within Ireland. The QQI accredited courses are available on different subjects and the interested students can pursue such courses online.
The students are required to sit for assessments, submit assignments, and learner records a part of the assessment to the QQI accredited assessors. Upon successful completion of any specific QQI course, the students can get awards, certifications, or grades.
Many students prefer to avail themselves of the expert assignment writing services from professionals associated with irelandassignments.ie.
Irelandassignments.com is a business that offers customers access to high-quality sample academic content on various topics of academic interest within Ireland.
The assignment writers associated with irelandassignments.ie are known to write high-quality, unique, and error-free assignment write-ups each time and every time for the clients.
The students require visiting the website, check the sample contents, use the business contact information and reach out to customer support, talk to the professionals associated with assignment writing services, and place an order.
The skilled and premium assignment writers associated with irelandassignments.ie are there to make sure that the task is completed within the shortest time.
Therefore to avail of learner record writing help, you can visit the website in context and access the professional writing team. The QQI assignment helper is also known to provide a sample of SNA learner record, fetac assignment examples to the clients.
The students often pay to help with my online exams. Therefore, if you want help with skills demonstration assignment writing then contact us as soon as possible.
Get Help from Native Assignment Writers to Write your Academic Paper