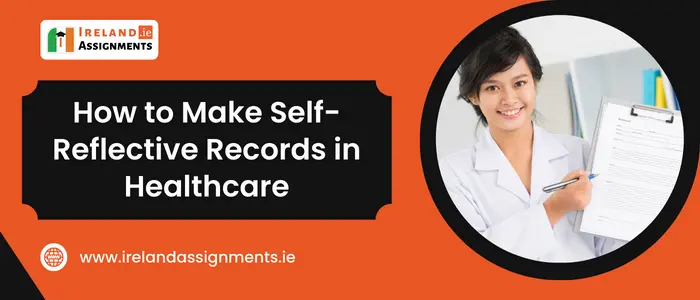 How to Make Self-Reflective Records in Healthcare 
Healthcare in Ireland comprises hospitals, clinics, and nursing homes. Apart from that, several other healthcare infrastructures are committed to offering high-quality healthcare services to the people in Ireland.
Healthcare in Ireland is also known to recruit and hire healthcare professionals like doctors, nurses, and physiotherapists. Instances show that it is a good practice to make self-reflective records as you deliver healthcare services.
In Ireland, many professionals from the nursing fraternity make self-reflective records. They know how to make such records. For those who are not aware of how reflective records are made, this essay can prove to be helpful.
Definitions of reflective records in healthcare
Nurses and physiotherapists in Ireland write self-reflective records while applying for a job. These healthcare professionals are also required to finish reflective discussions before getting selected for a job in a healthcare facility within Ireland.
If you are an Irish jobseeker and making an application for a job then your placement agency can ask you to write reflective records on a complaint or an incident.
Hire a Irish Assignment Writer to Write your Essay, Thesis & Other Academic Papers
What is the need for reflective records in healthcare?
The reflective records that you submit as a nurse or a midwife provide an account of how you have reflected as a nurse. It helps others to spot the improvements that you made while practicing as a nurse.
If you are applying for a job as a nurse then it allows the employer to understand your skills and abilities as far as that specific healthcare service is concerned.
Topics for creating reflective records
If you are a nurse then your reflective records need to be on nursing. If you are from a healthcare role that is different from nursing then you are required to write reflective records on that specific sub-domain within healthcare. While writing reflective records you can utilize the following things:-
Any particular experience or event while practicing as a healthcare professional (nurse)
While you are part of a training on healthcare services
Feedback (written, verbal, informal, and formal) that you obtained as a healthcare professional about yourself or others that are part of your team
While writing self-reflective records in healthcare it is recommended that you do not require to include details that identify a patient, service users, and individuals particularly if the event is not usual. Also, it is advised that while writing self-reflective records it is not required to include exact dates. Instead, you can include the month and the year in your reflective records.
Get Help from Native Assignment Writers to Write your Academic Paper
Tips on writing a self-reflective record
This section of the blog highlights the different tips that you require to use while documenting a self-reflective record. In this context, it can be said that a reflective record can be made by writing by hand or using the computer and the internet.
The steps that one needs to follow while writing reflective records are as follows:-
Title
While writing a reflective record it is essential to give an appropriate title. The title needs to be descriptive and it needs to be easily understood. The tile contents need to be such that it provides a clear picture of the reflective record.
Date
As you are writing reflective records it is advised not to give exact dates to the reflective record write-ups. However, you can include dates that contain the month and the year.
If you are writing a reflective record then you need to mention the type of practice that you have rendered as a healthcare professional. You can also include feedbacks that are related to your practice. In this part of the reflective record write-up, you are required to provide all the information about what you did as a professional or you can explain excerpts from your own experience as a healthcare professional.
Strategies that you have adopted to improve your work
There is a section within your reflective record write-up where you are required to provide information about what you changed to better your work as a healthcare professional. While doing so you need to make sure that you don't include emotions.
Instead, you are required to mention unpleasant experiences and what needs to be done to make sure that such things are never repeated in your career as a healthcare professional. As you write a reflective record write-up you should focus more on positive aspects of your career instead of criticisms.
How the self-reflective record holds relevance to the area of your practice
In your reflective record write-up, you should highlight how your write-up is relevant to your practice code. While writing a reflective record write-up make sure to attach priority to the people, preserve safety, practice effectively, and promote trust and professionalism.
To know more about reflective records visit online and check out relevant links.
Buy best quality assignment writing help from expert writers of QQI Assignment Help
Students in Ireland often require help with writing essays, and academic assignments and for that, they approach the assignment writing services in Ireland. There are several premium assignment writing services providers in Ireland including QQI Assignment Help.
These businesses hire writers who are skilled and experienced in writing a variety of content. The irelandassignments.ie is worth mentioning in this regard and it is known to provide content write-ups to the client that are unique and are devoid of spelling or grammar errors.
The standard assignment writing services in Ireland are known to provide reflective writing services in Ireland. The professionals associated with the writing job are known to write my essay in Ireland. Therefore, if you are an Irish student then you require paying to do my assignment online. The cheapest assignment help in Ireland like the QQI Assignment Help is also known to provide high-quality assignment write-ups consistently.
If you are participating in academic assessments and you are required to write learner records and related stuff then you can get done your learner record online with the aid of professional Irish assignment writers. The expert writers are also known to provide skills demonstration help and they are also known to provide healthcare assignment helpers for hire and also help with nursing assignments.
Buy 100% Plagiarism Free Assignment Papers & Get Good Grades